Tuesday thr. Friday 11am to 4pm. Special Lunch Formules $15 & $20 see HomePage. BON APPETIT !!!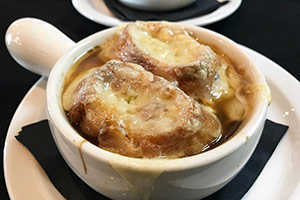 FRENCH ONION SOUP
The most traditional french soup. Onions with veggie broth and gruyère cheese.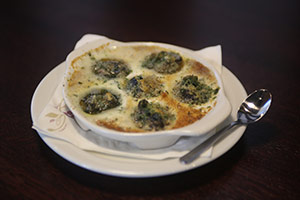 ESCARGOTS
Snails with Parsley butter, shallots and garlic.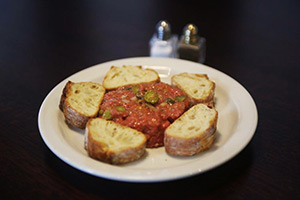 BEEF TARTARE
Appetizer size. Raw beef, shallots, capers, french pickles, egg yolk, mustard, ketchup and tabasco.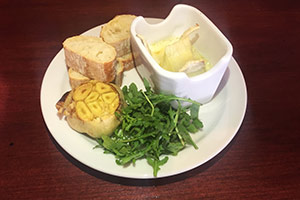 BAKED BRIE
Baked Brie with roasted garlic and crostinis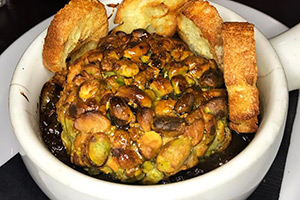 WARM CRUSTED PISTACHIO GOAT CHEESE
with Onions confit jam, pistachio, honey and crostini.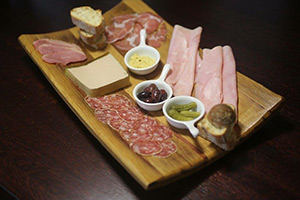 CHARCUTERIE BOARD
Large wood board with Jambon de Paris, Saucisson, Coppa, Smoked Duck magret with Dijon mustard.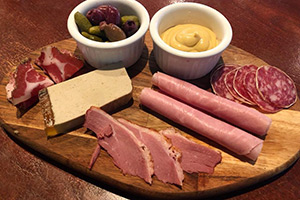 CHARCUTERIE PLATE
Small charcuterie plate (ideal for 1pers.)
SALADE D'ENDIVE
Belgium endives, smoked salmon & apple with Italian Dressing.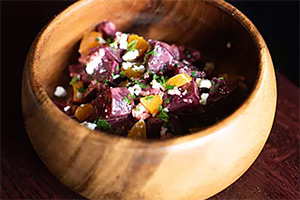 La BETTERAVE
Roasted red beets with french goat cheese, orange wedges and vinaigrette.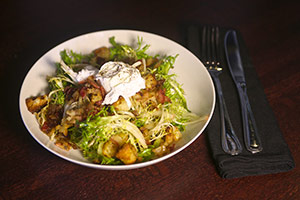 La "LYONNAISE"
Frisée saled, bacon, onions, toasted croutons and poached egg.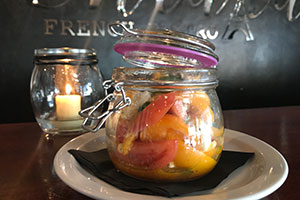 HEIRLOOM TOMATOES
Heirloom Tomatoes with pearl Mozzarella, basil & herbs de Provence Olive oil.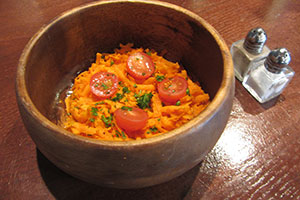 CAROTTES RÂPéES
Shaved carrots, cherry tomatoes w/ basil Olive Oil & White Peach Vinegar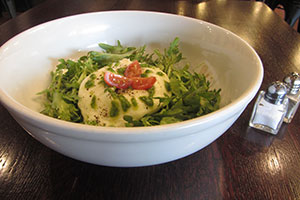 BURRATA SALAD
Arugula, burrata, homemade pesto, cherry tomatoes.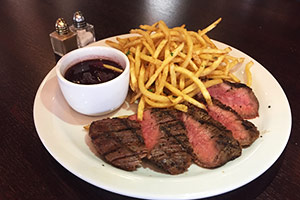 BAVETTE à L'ECHALOTTE
Flank steak with red wine, shallot sauce and french fries.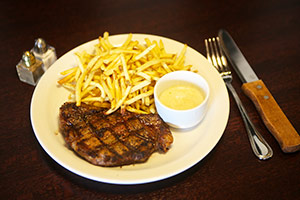 FILET MIGNON SAUCE POIVRE VERT
Beef filet mignon with cream green pepper sauce and french fries.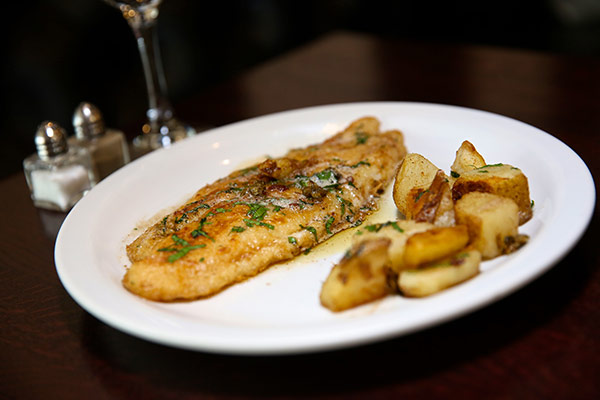 SOLE MEUNIèRE
Panseared sole in brown butter with garlic, capers, lemon and parsley.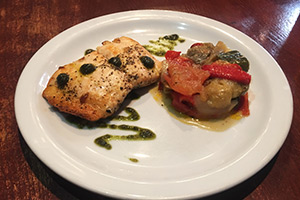 SEARED SALMON
Seared salmon with homemade Pesto & Ratatouille.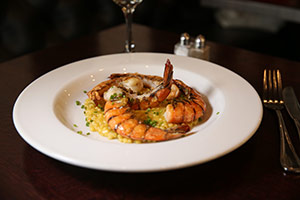 PRAWNS RISOTTO
Prawns with Israeli couscous risotto and saffron.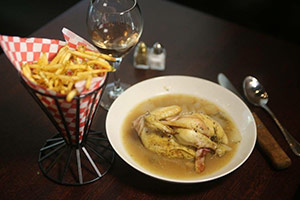 ROASTED CORNISH HEN
Cornish hen in papilotte with onions, rosemary, thyme and whte wine. add French fries on the side ($6).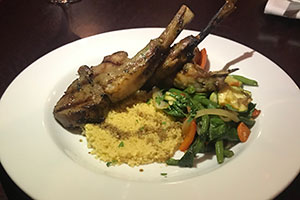 RACK of LAMB
Lamb cooked in lamb jus veggie and couscous.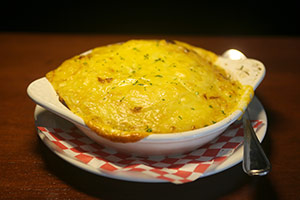 HACHIS PARMENTIER
Ground beef with onions, carrots, tomatoes tapped with mashed potatoes and gruyère.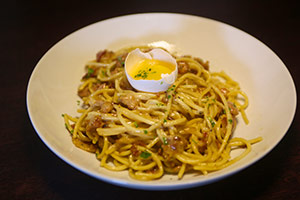 CARBONARA PASTA
Fetuccini pasta with bacon, onions, and cream sauce topped with raw egg yolk.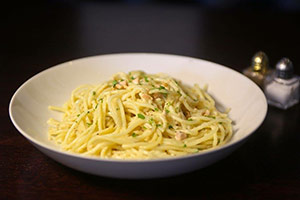 SALMON PASTA
Fetuccini pasta with salmon and cream sauce.
MOULES MARINIERES
1lb PEI mussels with garlic, shallots, parsley and white wine sauce. Served with french fries.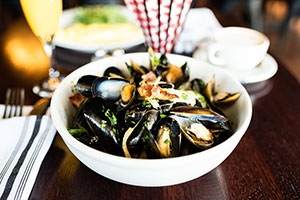 MOULES POULETTE
1lb PEI mussels with bacon and onions cream sauce. Served with french fries.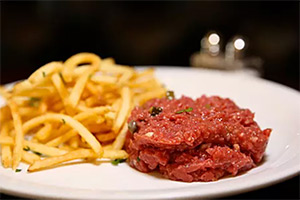 TARTARE
Beef tartare, Entree size. Raw beef, capers, shallots, french pickles, eggs yolk, mustard, ketchup, tabasco & French Fries.
QUINOA RATATOUILLE
Ratatouille served over Quinoa.
SANDWICHES, CROQUES & CROISSANTS
Sandwiches are coming in fresh french traditional Baguette, French croissant or Pain de Mie.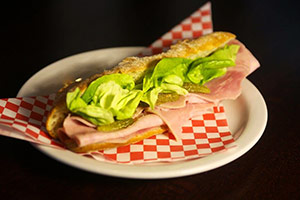 Le "PARIS"
French ham, butter and french pickles in Baguette parisienne.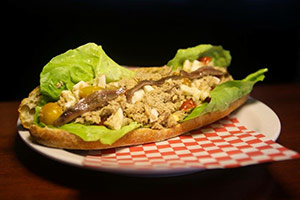 Le PAN BAGNAT
Tuna, tomatoe, hard boiled egg, salad, anchovie, basil and vinaigrette.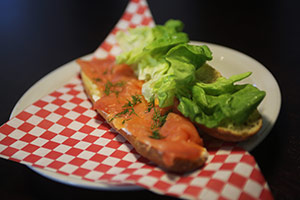 L'ATLANTIQUE
Smoked salmon, butter, creme fraiche, dill and lemon juice.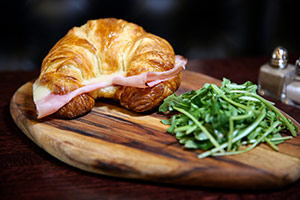 HAM CROISSANT
Croissant au jambon grilled in the oven. Filled with ham, gruyere and béchamel.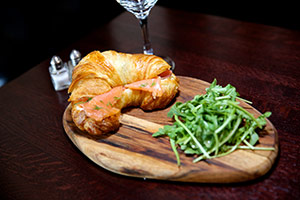 SALMON CROISSANT
Croissant filled with smoked salmon, crème fraiche, dill and lemon juice. Baked in the oven.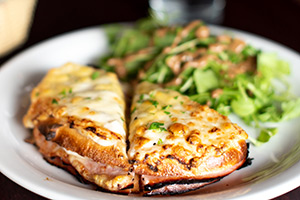 Le CROQUE MONSIEUR
Brioche, béchamel, ham, gruyère.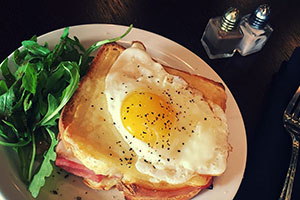 Le CROQUE MADAME
Brioche, béchamel, ham, gruyère and fried egg on the top.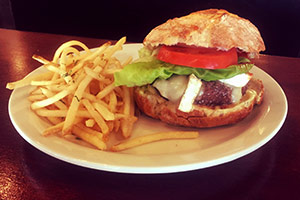 OHLALA BRIE BURGER
1/3lb ground beef, Brie, bacon, onion, tomato, salad w/ French fries.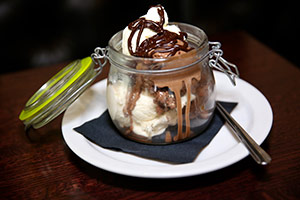 CHOCOLAT LIEGEOIS
Chocolate and vanilla ice cream with home made chocolate ganache and home made vanilla whipped cream.